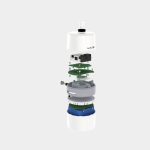 SafyrOPC
We wanted to develop a product able to reduce the risk of contamination on clean room production lines. We have collaborated for more than 2 years with experts from HEX, a company specializing in contamination control in critical environments. We have developed Safyr OPC, a high-precision sensor specially designed for monitoring fine particles in clean environments.
This new sensor, developed from our NextOPC, is integrated exclusively into the Safyr station.
Sleek design, perfectly smooth, without sharp edges, optimal for clean rooms. Safyr OPC is easily placed in your areas and equipment such as PSM, isolator, etc.
The OPC is also compatible with chemical and decontamination agents such as H2O2.
Specifications
General
-
Detection range
0.5 to 2.5μm
Airflow
2.83L/min with integrated pump
Communication
Wireless / LORA
Performance
+
Compatibility
ISO 5-7-8 or class A to D